Fundamentals of Guitar Technique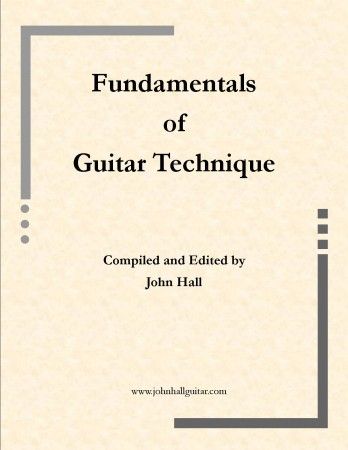 Now Available as an E-book!
A comprehensive collection of music and music theory for guitar from early to advanced stages of development compiled from my last twenty years of teaching. The collection includes:
Scales
Chord forms from basic open chords through advanced jazz harmonic structures.
Easy to intermediate classical, jazz and popular repertory with standard notation and tablature.
Introductory reading material.
Duets for two guitars.
25 Melodious and Progressive Studies Op. 60, M. Carcassi (Complete).
Douze Etudes Op. 6, F. Sor (Complete).
'Cello Suite 1 BWV 1007, J.S. Bach (Complete).
Lute Suite 1 BWV 996, J.S. Bach (Complete).
Intermediate to advanced reading material (unedited).
Analyses of standard classical guitar repertory with links to website discussions.
In all, 312 pages of material. All professionally notated using Finale® music notation software in high quality PDF format. All pages are bookmarked and the document is fully searchable for easy reference. Works on iPad with free Kindle app. 
"

Fundamentals of Guitar Technique

 is a one of a kind publication for guitar. This massive 300+ page document encompasses a plethora of standard solo classical guitar repertoire, duets, and excellent arrangements. It also has jazz arrangements, scales, arpeggios, chords studies, professional level harmonic analysis of standard repertoire masterpieces, etc... It is beautifully engraved and the fingerings are excellent. For $25, it is a bargain that no guitar student or educator should pass up!" - 
Douglas Seth USA
"Thank you for your years of work compiling this wonderful masterpiece of guitar work. I am sure I will be using the book for many years to come. The download went well." - Anthony Jaynes
"Congratulations Mestre John Hall!!!
Fundamentals of Guitar Technique ... is not a book , but is a
Bible !!!"
Antonio Guedes City Jundiaí ,Estate São Paulo , Brasil
I do have hard copies available. Please contact me through the website for pricing and shipping.
Buy and download PDF securely from the link below: 
Influences, 21 Intermediate Etudes for Guitar
"These are some of the finest etudes I've ever played for intermediate level players." Douglas Seth USA.
"This is a FANTASTIC book!! I love playing every one of the selections here. Thank you, John."  -James Seaberry, USA.
"I find your collection of etudes musically rewarding as they sound more modern and cool, which differs from Sor's etudes. These are certainly more interesting to play than merely pedagogical etudes beginners often work on." -Yasuhiro Shimizu, Japan.
Standard notation only. Listen to any or all of the etudes here.
To order, go to Theodore Presser